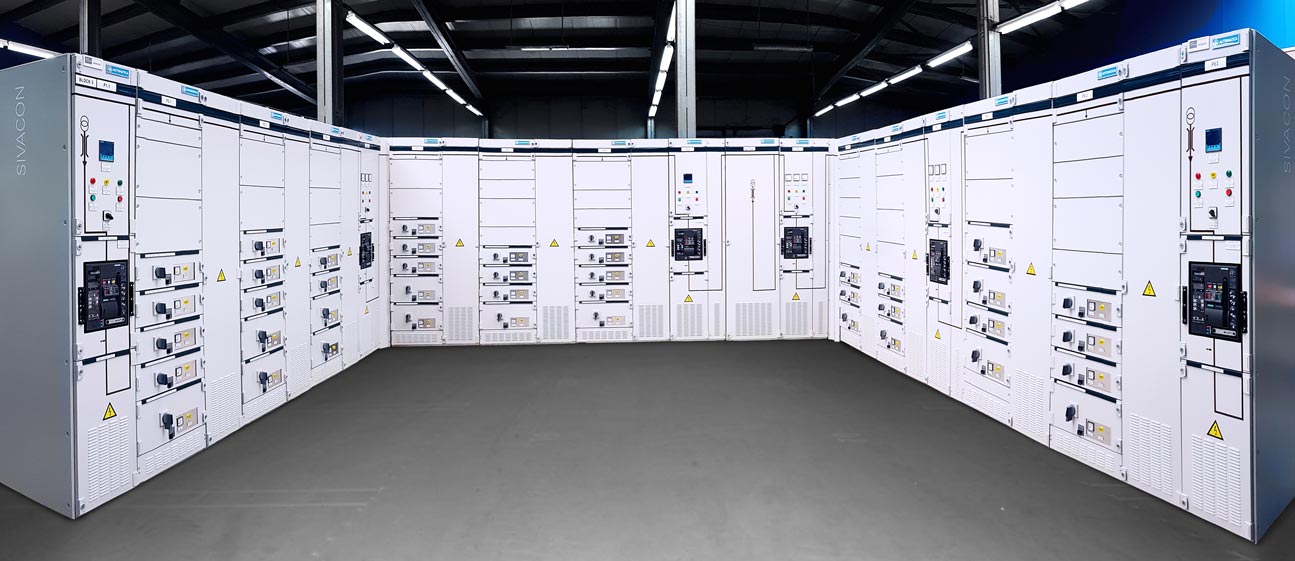 SIVACON S8 – low voltage switchgear with certified design. The low voltage switchgear that sets new standards.
• Cost – efficient system
The SIVACON® S8 low-voltage power distribution board sets new standards as a power distribution board or Motor Control Center (MCC) for industrial applications or in infrastructure. The power distribution board system up to 7,000 A for the simple and consistent distribution of power guarantees maximum personal and system safety and, thanks to its  optimal design, offers a wide range of possible uses. Thanks to the modular technology, the power distribution board can be optimally adapted to every requirement when designing the complete system. With its combination of maximum safety and a modern design, the system offers a highly cost-efficient solution.
• Tested safety
SIVACON S8 stands for the highest level of safety. The low-voltage power distribution board is a design-tested power switchgear and controlgear assembly with a design verification based on testing. Evidence of its physical properties has been provided in the product testing department under both operating and fault conditions. An arcing-resistant  locking system also ensures maximum personal safety. Furthermore, even with the standard design, verification of testing under arcing conditions is in accordance with IEC 61641.
• Flexible solutions
The SIVACON S8 low-voltage power distribution board is the intelligent solution which can be adapted to match your requirements. The section, either single- or double-fronted, can be installed together with a main busbar system or back-to-back with a separate main busbar system. Different installation designs can be combined in one section with ease. The flexible, modular technology allows for the simple exchange or addition of functional units. The SIVACON S8 modular components undergo a continuous innovation process, thereby ensuring the highest possible level of technical progress for the complete system.
Circuit breaker system
Universal installation system
Fixed-mounted system
3NJ6 in-line system
3NJ4 in-line system
Reactive power compensation
Installation systems
Fixed-mounted design

Withdrawable design

Withdrawable unit design

Fixed-mounted design with compartment doors

Plug-in design

Fixed-mounted design

with front covers

Plug-in design
Fixed-mounted design
Fixed-mounted design
Functions
Supply

Feeder

Coupling

Cable feeders

Motor outgoing feeders (MCC)

Cable feeders
Cable feeders
Cable feeders
Central reactive power compen-sation
Rated current In
up to 6,300 A
up to 630 A

up to 250 kW

up to 630 A
up to 630 A
up to 630 A
unchoked up to 600 kvar

choked up to
500 kvar

Connection position
front or rear
front or rear
front
front
front
front
Section width (mm)
400 • 600 • 800 • 1,000 • 1,400
600 • 1,000 • 1,200
1,000 • 1,200
1,000 • 1,200
600 • 800 • 1,000
800
Internal separation
Form 1*, 2b, 3a, 4b, 4 Type 7 (BS)
Form 2b, 3b, 4a, 4b, 4 Type 7 (BS)
Form 1*, 2b, 3b, 4a, 4b
Form 1*, 3b, 4b
Form 1*, 2b
Form 1*, 2b
Busbar position
rear/top
rear/top
rear/top
rear/top
rear
rear/top/without