The automatic belt weigh-feeders are used in any industrial process requiring a constant afflux of material (granular or powder) with a constant mass flow. The belt conveyor includes a weighing system for the material on the feeder-belt.
The equipment allows communication with a computer or PLC and it is produced by Mitsubishi Electric, characterized by the following performances:
Special flexibility in the configuration of any application,
Easy integration in the industrial communication networks (Ethernet, Profibus, DeviceNet, RS 485, CC-Link, Can Open),
Initial low cost of the equipment,
Low maintenance cost, the spare parts being produced in large series,
Compatibility with CE industrial standards, guaranteed through certification.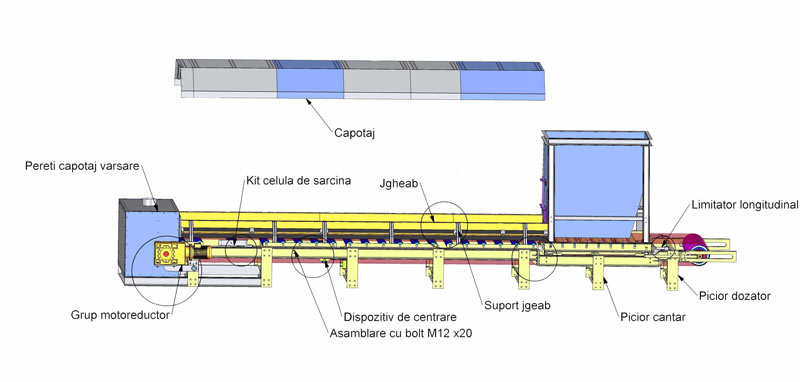 Technical data
Batching accuracy
± 0.25% … ± 1%
Belt widths
500, 650, 800, 1000, 1200, 1400, 1600, 1800 mm
Rated flow
0,1…….1000 t/h
Flow prescription range
1% … 100% from normal flow
Electronic  equipment
FX3G/FX3U Mitsubishi Electric
Power supply voltage
220/380 V ±10%
Rated frequency
50 Hz ± 2%
Max. consumption power
0.5 – 10 kVA
Protection degree
Central electronic equipment: IP 65

Local electronic equipment: IP66

Proximity detectors: IP67

Load cell: IP68

Operating conditions
Mounting place
Indoor, outdoor
Climatic protection
Temperate, tropical
Ambient temperature

Central electronic equipment
Local electronic equipment
Mechanical equipment

-100C … +550C

-250C … +700C

-250C … +700C

Relative humidity at 200C
65% ± 20%
The automated belt weigh-feeder BWF-201M produced by Automatica SA is the result of over 30 years of experience in the field of gravimetric weigh-feeding systems. The continuous evolution in this field of major importance for the heavy industry was carefully followed and it determined the addition of new solutions that would offer superior performances and a continuous decrease of the price per application.