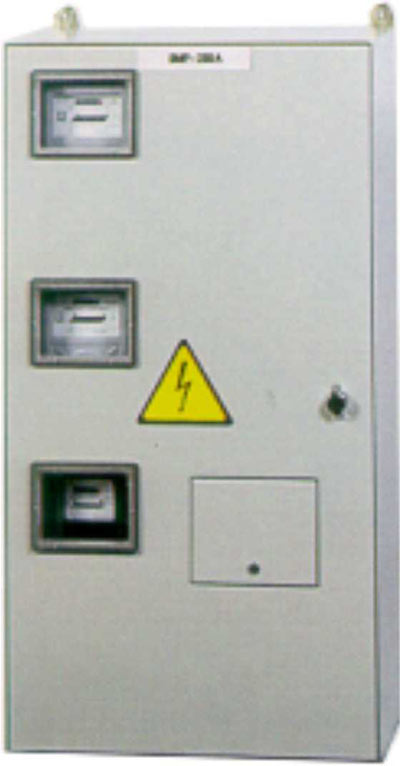 Three-phase protection and measurement block provides the connection between the three-phase, air or underground connection and the subscriber's main power supply column. It connects customers to the low voltage network of the active and reactive electrical energy supplier consumed and ensures the protection of the installation.
Technical Specifications
Standards

IEC 60439-1 ; Electrica SA specifications  no. 4/2003

Miminal insulation voltage Ui

630 V

Use nominal voltage Ue

400 V

Overvoltage category

IV

Polution class

3

Nominal frequency

50 HZ

Nominal current Ie (A)

16, 25, 32, 40, 63, 80, 100, 125, 160, 200, 250

Protection for

Overload, short circuit, over-voltage and differential

Protection degree

IP54

Surface treatment

Powder coating finishing

Usage
Climatic class

N3, T3, N1, T1

Ambient temperature

-25OC…+40OC

relative humidity at 20OC

90%

Installation

Interior, exterior
Functions:
measurement of electricity consumption (active – reactive);
connecting consumers' facilities to the supplier's power facilities;
protection against industrial frequency over-voltages produced by the consumer by accidental interruption of the neutral conductor;
protection against electric shock by directly touching the circuits and equipment in the protective block box  normally energized;
re-actuating possibility  by the consumer in the case of protection activation or of a defect in its installation, by providing a window of access to the circuit breaker while preserving the degree of protection, with the possibility of securing the access by the supplier;
the possibility of reading the meters or, where appropriate, the interruption of the electricity supply by the supplier, regardless of the consumer's presence;
protection against electric shock and damage to equipment by malicious or unauthorized persons;
short-circuit and overload protection of the general power supply to the consumer.