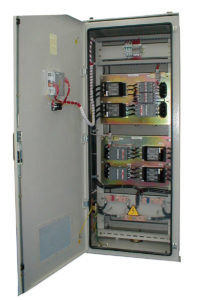 The equipment is used to compensate reactive energy for consumers in the low voltage grid.
Components:
metallic box / metallic cabinet made in Automatica with electrostatic field painting;
module-based metallic system made in Automatica;
dry three-phased capacitors, protection for internal and self-scaring over voltages;
automated controller with 3, 6  or 12 steps (optionally with serial outlet RS485);
three-phased contactors;
fuse-disconnectors for overload and short-circuit protection;
miniature automatic circuit-breaker for the protection of the controller's inputs;
switch for the controller's command circuit;
main circuit-breaker (on demand).
Constructively, the versions of Automatica equipment are:
– compensation modules;
– reactive power compensation systems in metallic boxes;
– reactive power compensation systems in module-based metallic cabinets.
The reactive power compensation modules without metallic enclosure can be made up to compensation values of 200 kVAR. These can be installed in cabinets already existing at the beneficiary and can be used as extensions to other compensation systems.
The reactive power compensation systems in mounted metallic boxes can be executed for reactive power compensation values between 12,5 … 100 kVAR.
The reactive power compensation systems in metallic cabinets are made in module-based design and they are executed for reactive power values between 125 … 400 kVAR.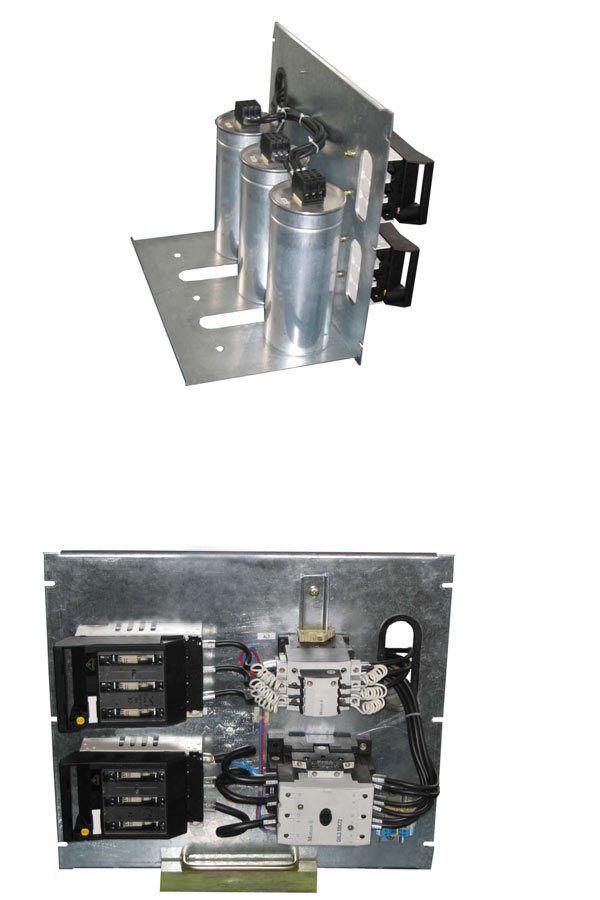 The system offers a series of advantages:
reduced power bill;
decreased active power consumption with app. 15%;
investment amortization in 6-12 months at most;
increase of the available active power in the transformer's secondary circuit;
reduction of the active power losses in the beneficiary's installations;
improvement of the local voltage level, thus allowing the power users to operate at rated voltage, with maximum yield.
SC Automatica SA can perform, at the beneficiary's request, the installment of the reactive power compensation systems.
Technical data
Standards and specifications

IEC 60439-1

IEC 831-1,2

Rated insulation voltage Ui

630 V

Rated operational voltage Ue

400 V

Overvoltage category

III

Pollution degree

3

Rated frequency

50 Hz

No. of setting steps

Max. 12 with automated switch

Rated power

12,5 …. 400 kVAR

Automatic C/k setting

from 0,07 A to 1 A

Power factor setting

from 0,9 capacitive to 0,7 inductive

Total capacitors losses

< 0,5 W/VAR

Total installation losses

< 1,5 W/VAR

Dielectric losses

< 0,2 W/VAR

Protection degree

IP 42 ; upon request IP 54

Surfaces treatment

powder coating

Dimensions *

QN (kVar)

H

W

D

12,5 – 75

815

615

400

100

1215

650

400

100 – 200

1500

650

400

225 – 300

2000

950

400

325 – 400

2300

950

400

Operating conditions
Climatic protection

N3, T3, N1, T1

Mounting place

Indoor, outdoor

Ambient temperature

-10OC … +50OC for operation

-10OC … +55OC for transportation

Relative humidity at 20OC

90%
*other dimensions per request