The electricity distribution and metering cabinet (FDCP) is an integrated part of the electricity supply installation, at 400 V rated voltage between phases, in apartment buildings, commercial, socio-cultural and administrative buildings.
Functions:
Connection of the energy installation of the apartment buildings consumers or city buildings to the supplier's energy installation;
The energy supply can be ensured through one group of fuses, 2 groups of fuses or an automated circuit breaker according to the beneficiary's demands;
Measurement of the active energy used by each consumer and the possibility of reading the meter independently of the consumer's presence at the measuring time;
Protection against overload, short-circuit and residual differential currents for each consumer's main energy supply;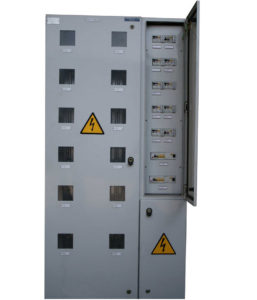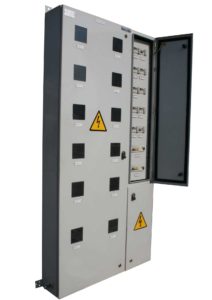 Protection against industrial frequency over-voltages occurred at each consumer, through the neutral's accidental interruption;
Protection against electrocution through direct contact with the live circuitry and devices;
Protection against energy thefts and electrical equipment damages determined by the action of an ill-intended, unknowing or unauthorized person;
Creating possibilities to limit the load peaks and reduce the technological losses;
Protection of the consumer against industrial frequency over-voltages.
Components:
The metallic box made of sheet metal powder coated in electrostatic field, coated accordingly to the operating conditions, respectively indoor or outdoor;
Racking for the installment of the electrical devices;
Meters for measuring the energy consumption;
Single phase consumer's mains made with: LF fuses or automated circuit breakers with over-voltage and differential protection.
The box contains 3 compartments:
Compartment for fuses;
Compartment for connection, protection and signaling devices;
Compartments for meters.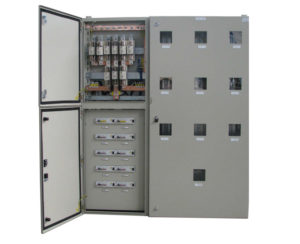 Technical data
Standards and specifications

IEC 60439-1

Rated insulation voltage Ui

660 Vca

Rated operational voltage Ue

400/230 Vca

Operating temperature

-30OC….+50OC

Rated frequency

50 HZ

Rated current for single-phased outputs

32 A

Rated current for three-phased outputs

25 A

Protection degree

IP 41 – indoor IP 54 – outdoor

Surfaces treatment

powder coating

Operating conditions
Climatic protection

N3, N1

Ambient temperature

-40OC….+50OC

Relative humidity at 20OC

90 %

Mounting place

indoor, outdoor